Woodstock's Sumner takes eighth place at state meet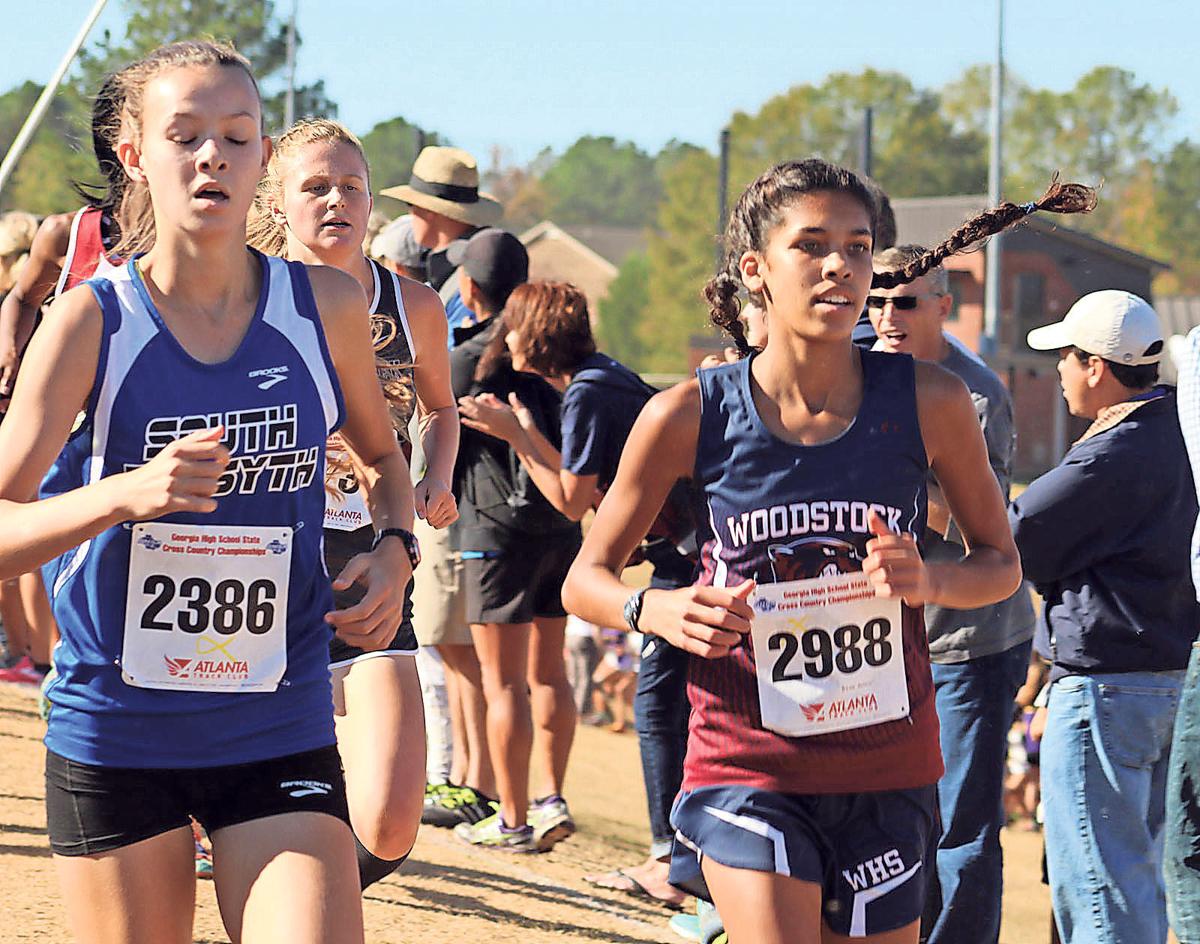 Adam Carrington
By Alex Resnak
aresnak@cherokeetribune.com
Woodstock's Brynne Sumner continued the excellent start to her career with a second-straight top-10 finish at the cross country state championships.
After finishing 10th last year as a freshman, Sumner finished eighth Friday in Carrollton, finishing the Class AAAAAAA race in 19 minutes, 57.03 seconds.
"She keeps getting better, and she seems to peak at the right time every year," Woodstock coach Kirk Scharich said. "She ran really smart, too. She was 25th at the mile and 19th at the 2-mile. I think, if the race was another 200 yards, she would have a shot at top-five. She was just finishing that strong."
As a team, Woodstock finished 12th with 304 points, behind leaders South Forsyth (74), Brookwood (128) and Walton (143).
Anna Burnett (44th, 21:33.68). Anna Bailey (75th, 22:21.91), Gwen Setlock (77th, 22:23.26) and Hannah Everest (112th, 23:15.62) also contributed to Woodstock's performance.
"I was hoping for a top-10," Scharich said. "I thought that might have been a stretch, but even just making it out of our competitive area was big. Our top five will all be back again next year, so I think this experience will help our young team in the future."
Coming off an Area 3AAAAAAA championship, Etowah senior Macki Walsh capped her high school career in 14th in 20:23.04. Teammate Sydney Runyan also ran well, finishing 20th in 20:43.48.
Though Etowah failed to qualify as a team, Walsh and Runyan made it in as individuals after finishing in the top 12 at the area meet.
The Eagles also had a good individual performance from Nick Cooke in the boys race.
Running as an individual had little effect on the senior, who finished 12th in 16:25.12.
Woodstock finished 16th with 380 points, well behind leaders Lambert (71), Brookwood (98) and Milton (124).
The Wolverines' chances took a hit when their top two runners, Austin Bailey and Josiah Jaqua, came down with illnesses before the race. Scharich, though, was pleased with the way his other runners stepped up.
"It was something we haven't had to deal with all season," he said. "Those two have run well in really every race. I think we could have been top-six with them at 100 percent, but I liked what I saw from some of our other guys we needed to perform."
Evan Cowart led the Wolverines in 36th at 17:26.69. Patrick Nolen (51st, 17:40.88), Matt Shear (99th, 18:31.06), Jaqua (114th, 18:55.13) and Jacob Rigsby (115th, 18:59.44) rounded out Woodstock's scoring. Bailey did not compete.
The state championships will conclude today with the Class AAAAAA boys and girls races at 11 a.m., and 11:45 a.m., respectively.
The Creekview girls are expected to be among the lead contenders in their race, while the Creekview boys also qualified. River Ridge's Robert Zell and Sequoyah's Bradshaw Lathbury will run individually.