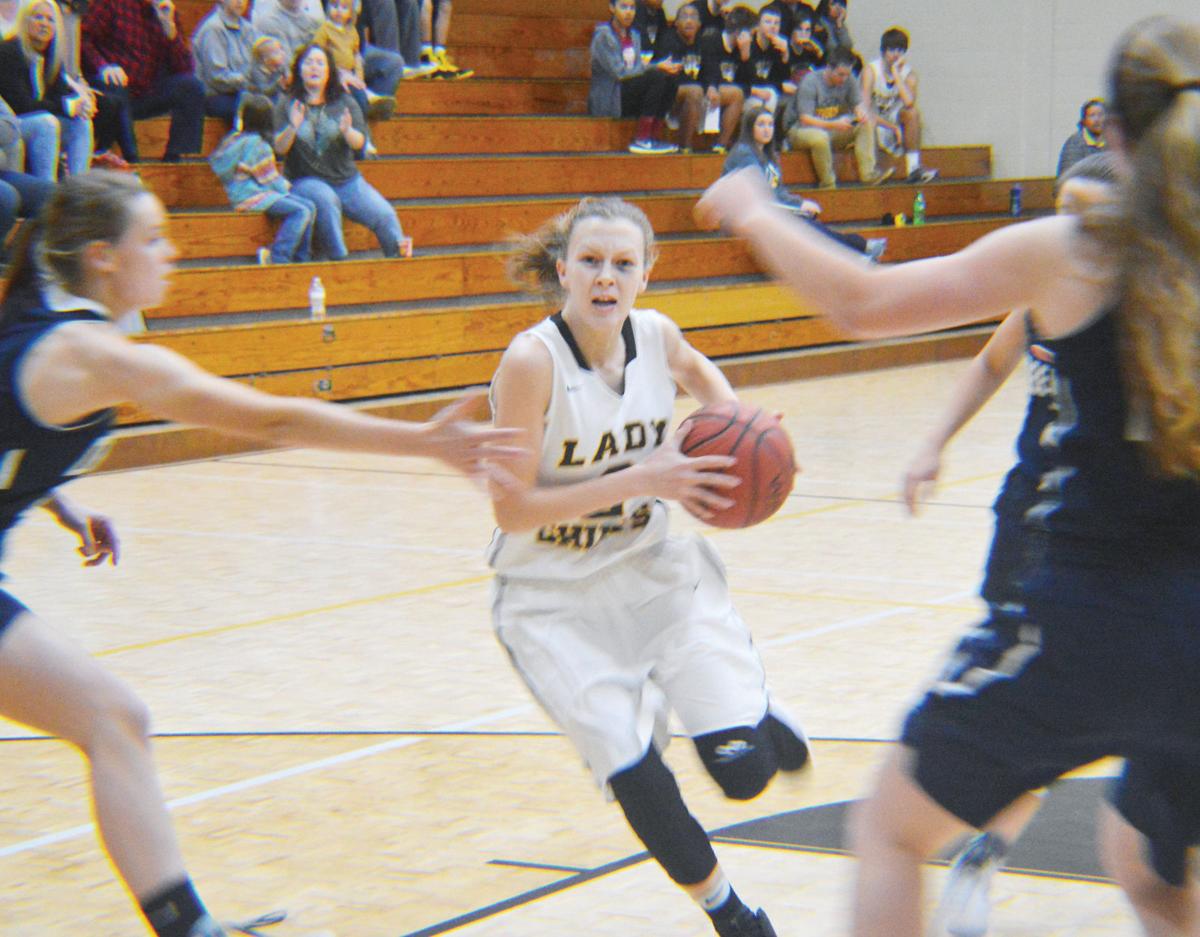 Sequoyah's Alyssa Cagle drives toward the hoop in Friday night's game against archrival Creekview. Cagle scored eight points as the Lady Chiefs escaped to win in overtime.  By Alex Resnak
By Alex Resnak
aresnak@cherokeetribune.com
CANTON — Peyton Satterfield scored all of her game-high 11 points in the fourth quarter and overtime as Sequoyah came from behind to beat Creekview 35-32 on Friday.
The teams were never separated by more than eight points — something that surprised neither coach in the rivals' first meeting since they played for the region championship last season.
"It's like this every time we play," Sequoyah coach Derrick DeWitt said. "It's always close, it's always physical and it's always tough. You know you have to bring your best, because both teams always want it so bad."
Neither team could do much scoring early.
Sequoyah (4-0, 2-0 Region 6AAAAAA) led 5-4 after one quarter, and Creekview (3-3, 1-1) led 8-7 at the half, but both teams found more scoring in the second half.
Creekview came out of the locker room hot with a 6-0 run in the third. The lead held until midway through the fourth, when Sequoyah went to its full-court press.
"We just wanted to make them uncomfortable," DeWitt said. "We wanted to force their hand a little bit and make them play faster than they wanted to."
The change also paid off on the offensive side for the Lady Chiefs, as they went on a 10-2 run to tie the score at 25-all on a Satterfield 3-pointer with 2:35 to play.
Still, Creekview had the best chances to win late in regulation, but a missed layup took the game to overtime.
"We really had our chances," Creekview coach Roger Nolan said. "It's always like this when we play them. We knew it was going to be a little ugly. We just needed to make some open shots or make a few more free throws, and I think we have a different result."
Allison Luly and Kendel Bennett led Creekview with eight points apiece. Sydney Rumble added six on a pair of 3-pointers.
Nolan said his team will need to find ways to score in the absence of point guard Kassity Ray, who could be out for the season with an injury.
"Our defense and effort looked good," Nolan said. "We still just need to find some offense. We'll get back to the drawing board. We need to find other ways, but we have time. It's a marathon, not a sprint."
Sequoyah got eight points from Alyssa Cagle, to go along with a strong game from Emily Seres, who finished with six points and nine rebounds.
Creekview will have a quick turnaround as it faces Cherokee tonight. Sequoyah will be off until it hosts Sprayberry on Tuesday.